Extension Offers Expert Advice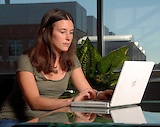 Area residents now have the expertise of all of the nation's land-grant universities at their fingertips, thanks to a new web tool offered by the Moore County Center of N.C. Cooperative Extension.
With this new Extension resource, called Ask an Expert, county residents can submit questions, via the county Extension web site, at any time of day or night, said Stephen Greer, County Extension Director. They'll get timely answers by email from Extension faculty from NC State University, NC A&T State University, and other land-grant institutions.
"For decades, Cooperative Extension has been a premier source of credible, research-based information on a myriad of topics. Now, Ask an Expert allows county residents to access that information with greater convenience," Greer said.
"What's more, Ask an Expert provides information that residents can trust," he said. "That's not always the case with answers found using other web search tools."
To access Ask an Expert, county residents can visit the county Extension web site and click the Ask an Expert link near the top right of each page. They then can enter their questions and email addresses in the spaces provided and submit them. Their questions will be directed to Extension faculty members who have the appropriate expertise to provide accurate and timely responses.
The county web site also provides information about many other local and state Extension programs and opportunities, Greer said.
"Of course, residents who need information still are welcome to call or visit the county Extension center during business hours," he said. "The Ask an Expert online resource just adds another avenue to our information and provides convenient access to Extension faculty."
The Moore County Center of N.C. Cooperative Extension extends to county residents the educational resources of NC State University and NC A&T State University. Both universities commit themselves to positive action to secure equal opportunity regardless of race, color, creed, national origin, religion, sex, age, or disability. In addition, the two Universities welcome all persons without regard to sexual orientation.
Was the information on this page helpful?
This page can also be accessed from:
go.ncsu.edu/readext?254537