Moore County 4-H Overnight Camp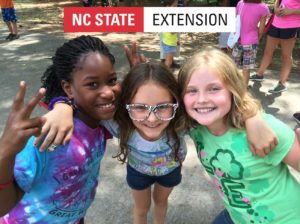 Moore County 4-H Summer Camp at the Millstone 4-H Camp Center is scheduled for June 17 – 22, 2018!
Millstone is an American Camp Association accredited camp that provides age appropriate, small group experiences in a safe, enjoyable environment! Campers enjoy daily activities such as: swimming, canoeing, nature programs, climbing wall, target sports, arts and crafts, hiking, campfires, talent shows and more!
This year the cost of camp is $350 for youth who are 8-14 years old. The fee covers transportation, lodging, meals, insurance, a camp t-shirt and $15 to use at the camp store; along with a lifetime of memories! This discounted rate is a savings of $135/child. In order to receive this discounted rate, you must work directly with the Moore County 4-H Office.
If you wish to register your child to attend 4-H Summer Camp at Millstone, a non-refundable $50 deposit is required to hold your space. Scholarship opportunities will be available; however, families are still responsible for a $50 deposit per child. We only have space for 10 youth to attend this camp, so be sure to get your deposit in as soon as you can! Remaining balances and finalized paperwork will need to be complete by May 1st, 2018.
For more information please call (910) 947-3188.