Moore County 4-H Summer Camp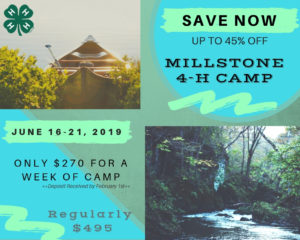 > > REGISTRATION FOR THIS CAMP HAS CLOSED < < 
Moore County 4-H Summer Camp at the Millstone 4-H Camp Center is scheduled for June 16 – 21, 2019!
Millstone 4-H Camp is an ACA accredited camp that provides age appropriate, small group experiences in a safe, enjoyable environment. Campers enjoy daily activities such as swimming, canoeing, nature programs, horseback riding, target sports, climbing wall, arts and crafts, hiking, campfires, talent shows and more!
This year the cost of camp is $320 for youth who will be 8-14 years old during camp. This fee covers transportation, lodging, meals, insurance, a camp t-shirt and money to use at the camp store; along with a lifetime of memories!
If you wish to register your child to attend Summer Camp at Millstone with Moore County 4-H, a non-refundable deposit is required by April 1st, 2019. If the camp deposit is made by February 1st, an additional $50 will be deducted from your overall cost. Scholarship opportunities will be available; however, families will still be responsible for a $50 deposit. Remaining balances and finalized paperwork will need to be completed by May 1, 2019. We will only take a small group to camp, so be sure to complete the following steps as soon as possible if you are interested!
* * * In order to receive this deal, you must work specifically with Moore County 4-H! We can not retroactively offer this deal if you have registered directly with the Millstone 4-H Camp Center. * * *
---
Step 1: Complete the Camp Wait-list Form
Step 2: Wait to receive an email notification from Sarah Miller that we have an opening for your child(ren).
Step 3: Provide your non-refundable deposit within 5 business days of receiving an email from Sarah Miller (skmille5@ncsu.edu).
Payment Options:
Check or Money Order: payable to NC 4-H Development Fund
If paying with cash, please bring exact change
*Unfortunately, we are unable to process Debit or Credit Cards*