Embryology Program Available to Moore County Educators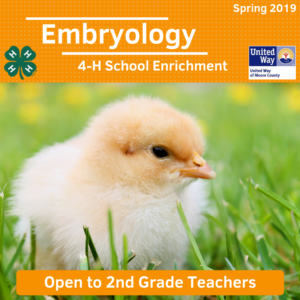 It's the time of year to make plans for your class to participate in the 2019 4-H Embryology Program. The embryology program emphasizes a "hands-on" learning experience hatching fertilized chicken eggs. This twenty-one-day school enrichment program aligns with 2nd-grade Essential Standard – Structures and Functions of Living Organisms.
⇒ How do I register?
All you have to do is fill out and complete our online registration AND classroom demographics form. Your registration is not considered complete until we receive both of these documents!
⇒ How much does it cost?
Thanks to the support of the United Way of Moore County, this program is provided free of charge for all teachers. Moore County 4-H will provide training, an incubator, fertilized eggs, brooder box, embryology teacher's guide, embryology countdown calendar, and program evaluation forms.
⇒ How do I get the materials?
Materials will be issued after the mandatory training session held on March 11, 2019.
⇒ Additional Information
 •  Participation is limited to 20 classrooms. The program curriculum is written to align with second grade, so first priority will be given to classrooms or groups serving second-grade students.
 •  Chicks will not be allowed to go home with students or stay in the classroom after the conclusion of the program.
 •  At this time, there will only be one session to participate which begins Monday, March 11 and concludes Friday, April 5. The mandatory training begins at 4:30 p.m. at a determined location in Carthage (further details will be provided after the registration deadline). All program materials will be provided after the training session. If you do not attend the mandatory training session, we can not provide you with the supplies and materials for this program.
⇒ Program Timeline
February 18: Registration deadline.
March 11: Mandatory training. Teachers receive materials after the training.
March 13: Set-up incubators in the classrooms. Let eggs sit at room temperature until they can be placed into the incubator (once ideal incubator temperature is reached).
April 2–3: Hatch.
April 3–4: Observe chicks/clean incubator.
April 5: Chicks, cleaned incubators, program materials, program evaluations ready to be picked up by 4-H Staff.